You can now assign different certificate templates to various courses. It provides certificates to encourage students to complete the course.
How to Use?
Install

Masteriyo Pro

Activate the

Certificate Builder Add-on

Go to your Dashboard and navigate Masteriyo-> Certificates
Click on Add New Certificate
Choose a blank template or one of the starter templates
Blank Slate: Create a certificate template from scratch using the Gutenberg editor.
Simple one: It is a predefined template. You can modify the template according to your needs.
Create or modify the Certificate Template to fit your needs.
Note: During the creation or modification of the certificate templates, you will get two default Masteriyo Gutenberg blocks for dynamically pulling the values. Student Name: The student's name is automatically generated on the certificate. Course Title: The course's title is automatically generated on the certificate.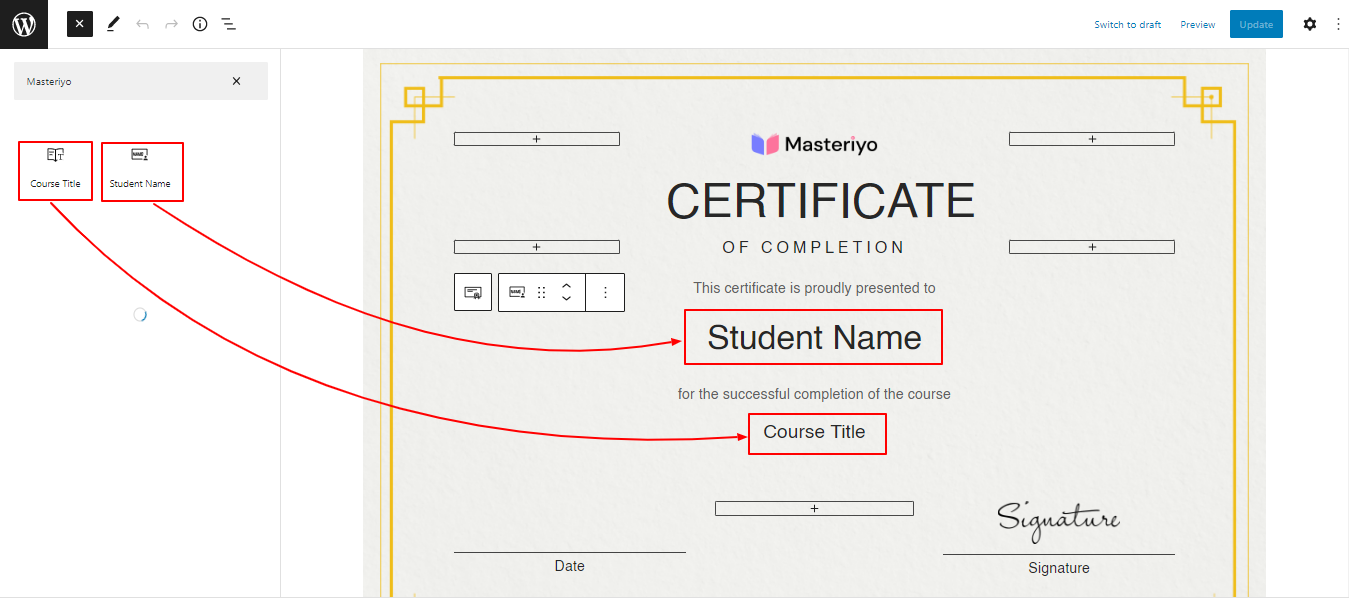 Once you create the Certificate template, You will need to assign that template to your specific courses. Follow the instruction below to assign Certificates on courses.
Go to your Dashboard and navigate Masteriyo-> Courses
Select and Edit the course on which you want to add a Certificate
Navigate Settings-> Certificate
Click on the toggle button to activate the Certificate
Select the Certificate for the Course
Click on the Update
QR Verification for Certificates
You can create a QR verification for the certificates you have created. For this, follow the steps below:
Go to Dashboard > Certificate > Select the required Certificate for editing.
You can find places on the Cetificate where you can add new blocks. Click on '+'.
Search for QR and click on QR Code.
Now, once the course is completed, the users can download their certificates in which the QR is available.
---
---